Love for Kit.
Saturday, September 30, 2006
I have a friend who got into an accident, quite a serious one. He hasn't recovered yet, and his bills are mounting. The thing is, he doesn't have insurance. Don't tell me what should be done, because that's too late.
If you really care, help.
His friends has put up something for him and I hope people reading this can support this initiative. If you can't make it, but still want to help, email me. I'll get in touch with the organisers.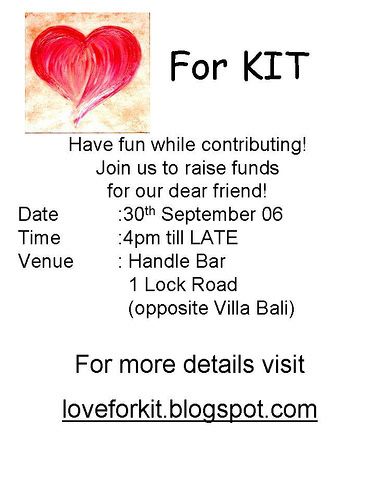 Note: I'm forward-dating this post so that everyone can see this until the day itself.
Update: Thanks to everyone who contributed. I'm still consolidating funds so as to pass to Kit's mum in one lump sum.
To anyone who wants to contribute still, please don't hesitate to email/sms/call me to let me know.
For those who wants to contribute directly, you can email the organisers for Kit's mum details. Their emails can be found on the above website.
Thank you all again. Let's all continue to pray for his recovery.
In the News
Friday, September 08, 2006
It's a good thing right? When your advertising gets into the news and is the most talked about in town? Well, not really. It seems that ads in Singapore has been getting in the limelight... but let's just say not for the best reasons.


Will provide links and pictures soon enough. Hang on to your panties.. or not
..

Update:
I'm sure everyone saw the "I swallow" ad.. If you ask me, I just think it's pure bad taste. Anyhow, it did enough to be featured in Adrants. Here's the
LINK
.
Oh, and to everyone else who thinks that if the ad's sole purpose is to get noticed, and that's what it did, hence it's a good ad; I disagree. Personally, I don't think it's good enough to measure the ad by such a one-dimentional yardstick. Sure it got noticed, but was it perceived positively or negatively? Did you manage to convince or just gross everyone out?
There's another ad that I'm sure a lot of people remembered.. the iGallop ad. Guess what? It got featured on Adrants too! Oh, and apparently, the Ix Shen and Jaclyn Tay version wasn't a follow-up to the pseudo-sexy ad, it was a replacement. Go read the comments section
HERE
.
Snippety Snip
Monday, September 04, 2006
Oh my. 3 months of inactivity. Who cares?! I'm not a blogger, I'm just someone with a blog. I update as and when I like. Heh.
Oh well, in 3 months, a lot has happened.. let me TRY and recall.
I finished my reservist.

I got myself a temp job.
Reservist was quite alright. I'm quite impressed by my CO and OC who showed compassion in allowing me time-off to prepare for AWARD School. AWARD School is quite cool. I'm learning a lot. I just want to be like Sponge Bob Funky Pants. Heh. =P The temp job is alright. Brings in the dough.. so yeah.
Ok lah, doesn't seem like a lot, but it is! All major events at least. Now, let's see what didn't happen..
I am still quite.. erm.. curvy (even though this isn't exactly the right word).

I am still single.

I still need a full time advertising job as a junior copywriter.
So if anyone is looking for a partner (only sexy, intelligent, non-psychotic woman need apply), let me know. I know I'm not the best looking person around, but I have standards. Ok la.. at least cannot be stupid. Anyone knows of anyone looking for a junior writer, let me know too.
In the words of Michael Jackson, I Love You All!