Love for Kit.
Saturday, September 30, 2006
I have a friend who got into an accident, quite a serious one. He hasn't recovered yet, and his bills are mounting. The thing is, he doesn't have insurance. Don't tell me what should be done, because that's too late.
If you really care, help.
His friends has put up something for him and I hope people reading this can support this initiative. If you can't make it, but still want to help, email me. I'll get in touch with the organisers.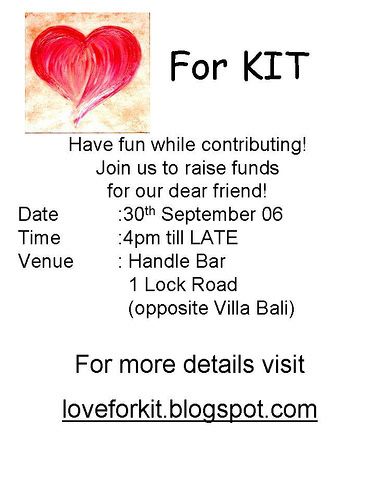 Note: I'm forward-dating this post so that everyone can see this until the day itself.
Update: Thanks to everyone who contributed. I'm still consolidating funds so as to pass to Kit's mum in one lump sum.
To anyone who wants to contribute still, please don't hesitate to email/sms/call me to let me know.
For those who wants to contribute directly, you can email the organisers for Kit's mum details. Their emails can be found on the above website.
Thank you all again. Let's all continue to pray for his recovery.
0 Comments: